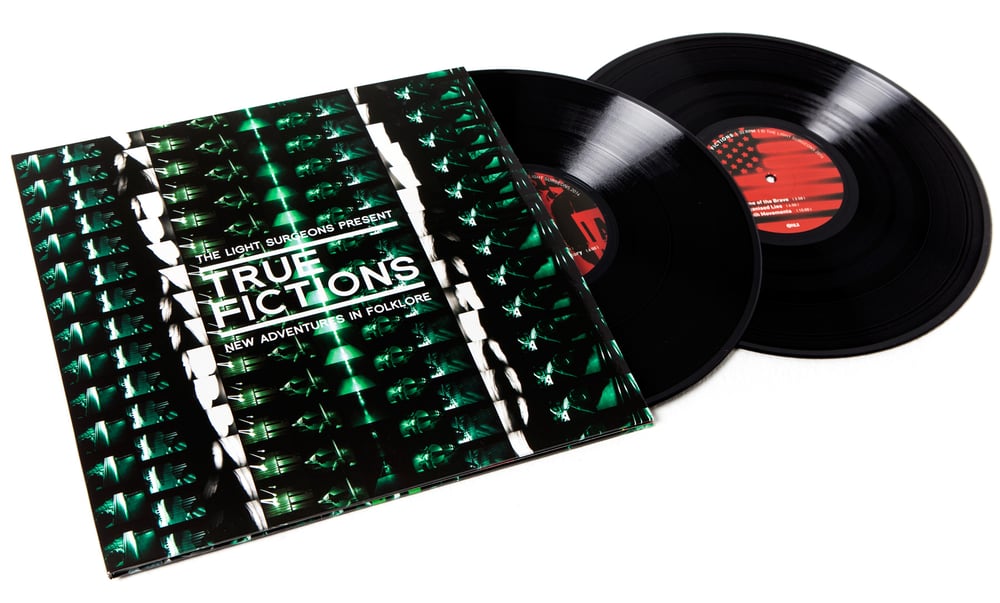 True Fictions : New Adventures in Folklore
£

23.00
---
---
Limited edition double 12" vinyl release of audio tracks and narratives from the seminal live cinema performance project commissioned by EMPAC
This landmark cross-disciplinary arts project brought into being a truly original collection of tracks that stand up in their own right as beautiful and beguiling works of sonic art, seamlessly blending documentary collage and music production in new and unexpected ways. The 12 original tracks on the two records weave together spoken word with a range of musical genres. Each track reflects a collection of people's stories and opinions that are collaged together and accompanied by an original musical score; each gathering a collection of voices from across the state of New York to explore the post 911 psychological landscape through different individual's notions of truth and myth.
This musical score was generated through a series of recording sessions with a group of New York based musicians who responded to each other's improvisations by way of a sonic game of 'Exquisite Corpse'. The multi-track recordings were remixed back in the UK by The Light Surgeons and formed into the eclectic mix of tracks that you can hear on this limited vinyl release. Their concept was to generate a kind of musical myth or rumour that either reflected or challenged the different spoken narratives that the project unearthed. During these recording sessions the musicians were also filmed, and brought together across multiple screens in their live performances to form a sort of virtual video band.
Images from the video from these recording sessions adorn the cover of the deluxe sleeve artwork, along side stage plans and pictures from the many live performances. This ground breaking piece of live cinema has toured extensively internationally as an immersive live audiovisual spectacle; fusing documentary film making, live and electronic music with animation and motion graphics that together create an altogether new type of multi-media experience. The project originally developed out of a year long digital performance arts commission by EMPAC, The Experimental Media and Performing Arts Centre in Troy, New York, with support from The Jaffe Fund for Experimental Media and Performing Arts. True Fictions was EMPAC's very first international arts commission and since its premier in September 2007, it has been presented at many arts festivals internationally, including: The Great Hall in Manchester, the Teatro Degli Arcimboldi Milan, the Alameda Theatre in Seville, the BFI IMAX Cinema in London, the Brighton Pavilion Theatre, The Waterfront in Belfast, the Freeform Festival in Poland, the Microwave Festival in Hong-Kong and at Itau Cultural in Sao Paulo, Brazil.
This is the first time the music and narrative audio as have been published.